"I like being transported to imaginary places," Kathy Sullivan said.
Through her art, the longtime Commonwheel Artists Co-op member has been able to give that gift to others.
"I love gardening, animals, horses, bunnies. I love old poster designs, illuminated manuscripts, anything medieval," she said.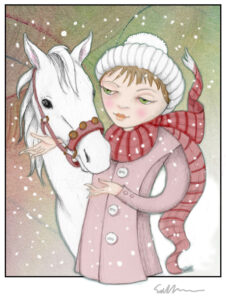 Sullivan puts that love into her calligraphy and linoleum-block prints that are available at Commonwheel.
In the 1970s, she majored in French and minored in art at the University of Nevada, Reno, and earned a second degree in art and a teaching credential in French and art at Utah State University.
While finishing her French degree in Nantes, France, Sullivan was able to attend the Ecole des Beaux Arts, the local art college, for one quarter.
In the 1990s, Sullivan started creating work for the Printery House, a Christian cards and gifts company.
"When I decided to quit my full-time teaching job, I looked around and noticed that the Printery House used a lot of calligraphy on their cards, so I sent some work to them and they liked it," she said.
"It was a great match for me as I am a Catholic and they are a Benedictine monastery with a print shop. I never thought of myself as a fine artist, and I had graphic art experience, so greeting cards seemed perfect, and they were."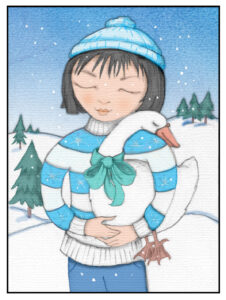 She doesn't work as much for the Printery House as she used to, but she created the company's calendar for 2021.
When Sullivan receives an assignment such as a card for a client, she does a lot of research on what she'll be drawing.
"I often have to draw or paint in a style that may not be exactly what I would do if it was just for me. I am inspired by other greeting card artists and illustrators, and spend a lot of time looking at other people's work," she explained.
When she prints using a linoleum block, she draws on it, then carves out the design and prints it. For greeting cards, she's started using an iPad and a program called Procreate. She finds it amazing to use an Apple Pencil to just draw on the iPad.
"Creation is the thing, I guess. There are always things to learn when you are creating something; a new technique, a different way of painting, some new skill. I love all this."
Although Sullivan considers herself more of an illustrator than a fine artist and says she was never a great painter, her influences include John Singer Sargent and William Morris. She loves the work of Christopher Wormell, a contemporary printmaker and illustrator, and many of the current children's book illustrators.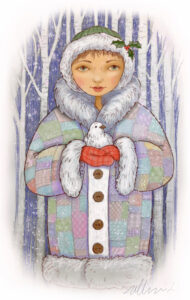 While she lived in France during college, she fell in love with puppetry. She even partnered with a friend
to run a small puppet theater in the 1980s
and '90s.
It was hard to make a living doing that, so the theater didn't last long. But Sullivan still enjoys creating small characters and offers her small felted birds and animals at Commonwheel.
"There is a bit of whimsy in everything I do," she said.
Sullivan isn't sure what people "get" out of her art, but she knows every creation carries some of what she feels about it.
"In my head, I am creating a little story. I want people to feel a little of the joy I had when I made the piece."
She wants her work to touch people's hearts and take them away from the "awful things" in the world; they can share her cards and tiny animals with others or keep them for themselves.
See more of Sullivan's art at www.crowquilldesign.com or at Commonwheel, 102 Cañon Ave. Information: www.commomwheel.com.