Although planning a trip can be one of the most stressful, challenging and tedious parts of travel, it's an essential task to ensure your traveling goes smoothly. I learned fundamental skills at the start of this summer to prepare for spending three weeks in Europe.
First, good preparation can avert headaches once you arrive. Second, background knowledge of different cultures can bridge the gap between U.S. customs and those abroad. Finally, research can decrease the stress of planning things last minute. 
The flights are generally one of the most expensive parts of a journey, so it is crucial to find the most economical deals. Typically, I use the Google Flights website, which has many unique features to help you find good deals.
For example, you can enter an origin airport and then search using the map features to see if flying into nearby cities is more affordable. Another tip would be booking one-way or multiple airline tickets. Sometimes, booking two one-way tickets is a better option.
Finally, try booking your travels in two segments.
For instance, I've found deals from the West Coast to Asia and from the East Coast to Europe. You might be able to find a good deal from New York to Europe and then book a separate flight from your desired origin airport to New York. This is the primary way I've saved a tremendous amount of money.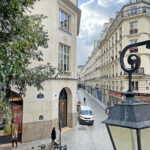 While traveling throughout Europe (and typically anywhere else I go), I usually stay at Airbnbs and VRBOs (Vacation Rentals by Owner). The benefit of using apps for rentals, rather than hotels, is the convenience of having a larger, more affordable place to wind down after a day of exploring new cities.
Most Airbnbs and VRBOs have kitchens, which helps offset the cost of eating three meals daily at restaurants. Generally, Airbnbs and VRBOs have a living room, offering a convenient place to relax versus sitting in a hotel room. They also tend to offer a more authentic, less tourist-y place.
Staying outside the central hotel districts can provide a whole new experience. Trying out more local spots is a great way to get a true sense of the country.
You may have heard some nightmare story about using apps like these; therefore, you must be diligent when selecting a place. Check the location on Google Earth street view to ensure it's in a safe part of town and no nightclubs nearby will keep you up all night.
Also, look at the reviews other customers have given the property. Check to see if any significant issues have been reported.
Lastly, make sure that the listing has all your desired amenities. Most places in Europe do not have air conditioning, so if that or other conveniences are important to you, watch for those. 
Two essential apps are Google Maps and Google Translate. You can download them offline, so you don't need a cellular connection to use them. 
Google Maps has many beneficial features beyond driving directions. Like any other direction app, you can type in your destination, but with Google Maps, you can also choose from walking directions, public transportation directions or a ride-share option.
In the past, if you wanted to take public transportation, you would have to look through confusing maps and read complicated signs, but Google Maps gives you step-by-step directions on where to walk, which train to take and which stop to get off at. 
Although many other direction apps do similar things, I have found that Google Maps is the simplest, most helpful way to find low-cost transportation. Also, the ride-share feature compares the prices of multiple apps like Lyft, Uber and Free Now (when available in the country). 
Although these apps may not always be the most economical, knowing which is the most affordable can be helpful. 
Moving onto Google Translate, many restaurants offer English menus. If not, that's when Google Translate comes in handy; you can type in simple words or sentences to translate, although the camera translate feature is even more valuable. You can take a picture of a menu or sign, and the app automatically translates it to your selected language.
I found this extremely helpful when looking through long menus; or when trying to understand a sign on a building. 
Wherever your travels may take you, I hope you can implement these tips to make your journey go more smoothly. Safe travels, and keep exploring!
Jack Embery
Editor's note: Jack is a summer intern for the Bulletin; watch for next week's story on what he learned during his family trip.