Manitou Avenue is a place to connect with the community and to enjoy the work of local and national artists. Through a partnership with Downtown Ventures and its annual Art on the Streets process in Colorado Springs, CReative AlliaNcE Manitou Springs (CRANE) is ready to propose the first round of new visiting installations.
Each has been carefully vetted for durability and structural integrity, in addition to visual appeal. We encourage public comment at manitouspringscd.org/contact or a text/call to 719-315-5338.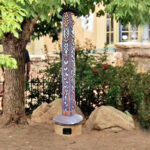 "Germination" by Gregory Fields. 7 feet, 3 inches tall by 22 inches square
Proposed location: Cheyenne Spring Pocket Park
An artist based in Lafayette, Fields is inspired by the fascinating carvings found in pre-Columbian Mayan ceramics and stonework, and the free-spirited abstract design of Henri Matisse's paper cutouts.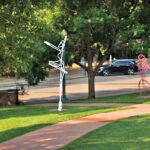 "Spiral Dance" by Harold Linke. 12 feet tall by 4.75 feet at its widest point
Proposed location: 7 Minute Spring Park
This is an organic, curved counterpoint to contemporary architecture. The Oregon-based artist suggests that the white finish draws the eye to her hopeful joyous dance.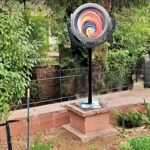 "Magnify" by Kirk Seese. 5 feet tall by 30 inches square
Proposed location: Manitou Avenue near Soda Springs Park
This interactive, kinetic sculpture allows sunbeams to pour through the colored lens as the viewer swivels the rings into position to catch the light, casting a stained glass effect on its surroundings.
Courtesy of the CReative AlliaNcE Manitou Springs