One incoming MSHS senior, Connor McKeown, is spending part of his summer working at the Totally Nuts Co. in Manitou Springs.
McKeown has worked at this job for the past three summers and started working there again on June 3;  he'll be there until school starts in August.
"My sister was working here a few years ago and they offered me a job since I was her brother," he said. "I wanted the money to save up for a car, so I took the position and I've continued to have a job here ever since."
He's very grateful to be working here for his summers since the job does come with some perks.
"I love that I get to eat free food and work with kids I get along with," McKeown said. "I would recommend anyone looking for a job getting one with people they get along with, because it makes working so much easier."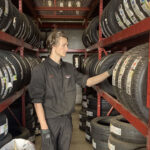 Kai Thomas, an incoming senior at Manitou Springs High School, is working at Discount Tire as a crew chief. 
Thomas began his search for a job a few months into the school year.
"I was on Indeed.com looking for any job I could get. I applied for as many jobs that I thought I would be good at and then I found this position. So far it has been a great fit," he said. 
Although Thomas was looking for any job he could get, he hoped for one in the field he was interested in and that he hopes to pursue later in life.
"I love working on cars and understanding how they work. Working at Discount Tire has taught me so much that will help me in the future," he said. 
Thomas plans to carry on with this job into the school year.
"I want to learn more about cars before I, hopefully, become a mechanic in the future," he said.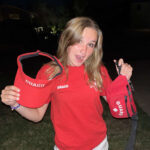 Incoming senior Grace McCumber is a lifeguard at Valley Swim Club. When she was looking for a summer job, she knew she wanted it to be a position that had something to do with one of her hobbies.
"I've grown up swimming and around water, so lifeguarding is the perfect job for me," said McCumber.
She spent the previous summer working to get her lifeguard, CPR and first aid certifications.
"To be a lifeguard, you must have several certifications and be at least 16," she said. "Since I had to wait until I turned 16, I spent last summer getting these certifications so I could be a lifeguard as soon as this summer started."
McCumber enjoys this job, because it will help with her future endeavors.
"I would like to go into sports medicine," said McCumber. "As a lifeguard I am learning CPR, first aid and how to care for people in general, so this job will definitely benefit me."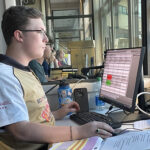 Gideon Aigner, a 2022 MSHS graduate, has a position working for the Rocky Mountain Vibes baseball team.
Aigner plays a special role at his job.
"I am working in the press box managing the sound levels, walk up songs, sound effects and generally everything to do with the sounds in a game," he said.
Although there were no major qualifications for this job, Aigner's previous experience helped him a lot in getting it.
"I got the job with a well-done resume," he said. "Working as a volunteer announcer for the school helped me a lot."
Since Aigner is looking for a position in this field and knew this job could help him in the long run, he knew he had to act fast.
"I started looking for work in early April," he said. "You have to start looking early for seasonal work, because those positions fill up quickly."
Photos by Emily Waite